Non-city
Although anti-urban ideology cannot be disassociated from the origins of the city itself, the discourse opposed to the development of the metropolis became particularly intense as from the 19th century, when the technological development that made possible the Industrial Revolution was irremissibly stigmatized. Two centuries later, the same technology has shown itself to be flexible enough to keep abreast of criticism, advancing proposals in pursuit of the overcoming of hypothetical discourses of confrontation. In this way the Linear City of Arturo Soria and the Broadacre City of Frank Lloyd Wright take their place in the history of cities as promising attempts to formalize the desired symbiosis between technology, territory, and the city, to which is added the apocryphal Non-city of our age.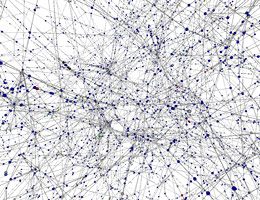 The Non-city is ubiquitous and transparent, extending to anywhere connected to the network. In contrast with its predecessors, the Non-city lacks references to the formal basis of the city, as it has taken care to annul geography and history. It is therefore located in a parallel stratus, disconnected from its surroundings and hyper-linked to the remainder of the cities that make it up. According to the philosopher Félix Duque, the network supposes leaving behind terms such as Metropolis, Megapolis, and Metapolis, which have a geographical connection, and coining a new one, the global Mepolis, in his words, Catholic, Apostolic, and Roman.
Duque travels through the territory of the Non-city analytically, dissecting it into three strata that identify with the contemporary leaning towards the functional organization of the Athens Charter of 1933. The Non-city is found where work, privacy, and entertainment converge. This occurs in the City of Bits, the headless Cybercity, without a center and without limits, a place of flow, exchange, and deregulation sublimated in nebulous complexes and urban foam, in Old City, the crystallized skin that the historical city abandoned, once the merciless social mutation that made of the urban reconstruction a literal construction going back in time had been completed; and finally in Sim City, the show city, the simulated city, which arises from the theme parks on the periphery in order to impregnate silently, by means of an entrance fee, mortgage, or membership fee, any urban contemporary manifestation with a conciliatory halo, safe and above all entertaining.
Authors
Félix Duque is Professor of the History of Philosophy at the Universidad Autónoma de Madrid. The author of numerous publications, he is currently researching among other fields the philosophy of technology and culture, and takes special interest in contemporary urban and artistic manifestations.
Bibliography
BARJA, Juan; DUQUE, Félix; GALLEGO, Joaquín (eds.) No ciudad. Revista Sileno nº14-15. Madrid: Abada Editores, 2004.