Centrifugal City
The term centrifugal city designates the tendency of cities towards dispersion and the formation of areas dominated by single uses, taking as a model the clearly expansive growth of the North American city. The maintenance up to the first third of the 20th century of the supremacy of the center in large cities was based on the efficiency of a public transport system capable of guaranteeing fluid communication with the suburbs. However, the rise of the car industry once the stock exchange crash of 1929 had been overcome meant that private transport progressively replaced public transport, which led to downtown and similar areas quickly beginning to decline. The mass exodus of business and administrative activity followed on the heels of residence in what is known as the white flight towards the perimeter of the city.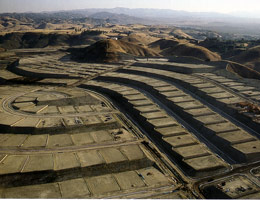 This process is based on two main factors:
It is ironic that those who built freeways as transit lanes did not foresee the full magnitude of their introduction. The existence of two traffic lanes ended up inviting the population to leave the center. The social consequences were far-reaching, as the routes of the infrastructures also implied the beginning of the social segmentation of the fabric that they found in their path, especially when their route required the demolition of quarters with a lower level of resources. At the same time they began to act as impassable separating barriers in the interior of the city.
This unfolding opened the way to the large-scale action of property companies as being the only procedure for colonizing the territory. This growth is exclusively based on the model of a separate one-family dwelling in the search for maximum economic performance. The result was the existence of very wide areas without any services, installations, or basic infrastructures to receive a constantly increasing population because of the joint effect of the baby boom, internal migration, and the unstoppable phenomenon of immigration.
Authors
Janet Abu-Lughod, who holds a degree from the University of Chicago and from the University of Massachusetts, is an emeritus professor of Sociology at Northwestern University and one of the contemporary figures of reference in the study of the urbanization processes of developing countries.
Bibliography
ABU LUGHOD, Janet L. New York, Chicago, Los Angeles. America's Global Cities. Minneapolis: University of Minnesota Press, 1999.
Links
Parole

Dictionary on the contemporary city